Robert Abides
Took a lazy day yesterday, even though I didn't particularly deserve one. I slept in until about 1:30 in the afternoon, then just puttered around and didn't do much of anything, writing-wise or other. (I made a
blog entry
and sent some emails, but that's about it.)
By about 6:00 P.M. I got an idea for how to finish the script for the second issue of Pathwalkers, and by about 7:00 I'd written it (it was only four pages, but still). I wanted the issue to suggest something really fascinating, like the best issues of Planetary do, but not say so much about the thing that it kills the mystery. But I also didn't want to leave the ending too open-ended.
For the last week or two, my two desires for the issue seemed mutually exclusive. And fatally so, at that. My eventual solution was to leave the conceptual mystery stuff mostly hinted at (but with a small, specific part of the puzzle filled in) and to make the closure and (semi-)cliffhanger elements character-based, instead.
I think it hangs together, but I'm still a bit too close to it to say for certain.
And then, lazily -- lying in bed literally doing nothing and grabbing the notebook and pen only because I didn't even have to sit up to do it -- I started making notes on a brand new project. A couple hours later, I'd nailed down the first page, and loosely plotted the first three issues.
Which means I wrote about as much as I would have if I'd been a good boy and forced myself to write for an hour or three.
Oh yeah, and I got up early today.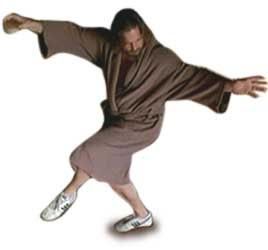 Laziness rules!